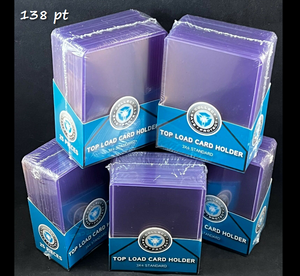 COLLECT*SAVE*PROTECT 3 X 4 X 3.5 mm - Thick Card Topload Holder 138 Pt.
SKU: 30435-10CT Brand: COLLECT*SAVE*PROTECT
Pack Weight: 0.282 lbs.
The 3 X 4 toploading thick card holders are designed to hold cards that are thicker than standard trading cards. The PVC used in CSP Toploads contain no plasticizers or stearates. Our high impact grade PVC does not migrate and will not harm your cards, photos or prints, while offering maximum protection and visual appeal.
- Holds a jersey or memorabilia card up to 138 points
- Crystal clear
- Made of high impact rigid PVC
Dimensions
- Exterior 3 x 4 x 3/16
- Interior 2 3/4 x 3 7/8 x 1/8
10 Holder(s) per Pack