💣💥💥THE BEST IN THE WORLD BREAKS💥💥💣

👉👉👉2021 Topps MUSEUM COLLECTION New release👈👈👈
⚾⚾⚾⚾⚾ FULL CASE 12-Box Pick Your Team⚾⚾⚾⚾⚾
Hitless Random BONUSES:: $50 Break Credit awarded first and an additional 2021 Panini SUPER BOWL TB Buccaneers Boxed Set to a 2nd hitless team!!
>>>>HIT= Any Autograph or Relic card or any card #'d to 99 or less!
All teams purchased will receive 5% cash back in break points!!
1 of 1 JACKPOT = $200+ at time of listing!!
📬

📬

FREE SHIPPING!!!!

📬

📬
💰💰💰Here are the GOODS!!!!💰💰💰 
(12) 2021 Topps MUSEUM Baseball Hobby Boxes
NEW 4-Box PYT Spots!!
Arizona Diamondbacks $60.00




Atlanta Braves $300.00




Baltimore Orioles $135.00




Boston Red Sox $180.00




Chicago Cubs $180.00




Chicago White Sox $180.00




Cincinnati Reds $130.00




Cleveland Indians $55.00




Colorado Rockies $80.00




Detroit Tigers $130.00




Houston Astros $140.00




Kansas City Royals $90.00




LA Angels $400.00




LA Dodgers $160.00




Miami Marlins $130.00




Milwaukee Brewers $100.00




Minnesota Twins $140.00




NY Mets $160.00




NY Yankees $300.00




Oakland Athletics $90.00




Philadelphia Phillies $205.00




Pittsburgh Pirates $150.00




San Diego Padres $205.00




San Francisco Giants $135.00




Seattle Mariners $230.00




St. Louis Cardinals $150.00




Tampa Bay Rays $60.00




Texas Rangers $80.00




Toronto Blue Jays $200.00




Washington Nationals $200.00



2021 Topps Museum Collection Baseball Overview

One of the cornerstones of Museum Collection Baseball is that it has a pretty good balance between current players and stars from the past. That continues here, including the base set. It's a smaller one with just 100 cards.

Parallels, which land one per mini box, come in Copper, Sapphire (/150), Amethyst (/99), Ruby (/50) and Emerald (1/1).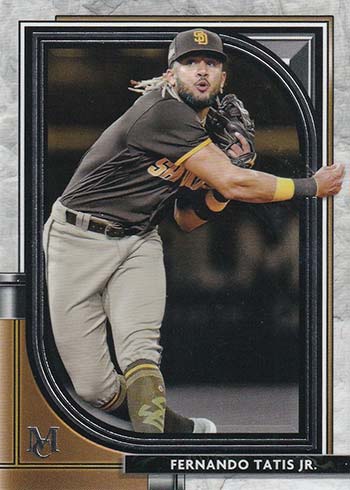 Autographs
Once again, on-card autographs are a big part of Museum Collection. In fact, all non-relic autographs have hard signatures.
Archival Autographs (/299 or less) come with a deep roster of signers. It's comparable in size to the base set. Parallels are limited to Copper (/50), Gold (/25) and Emerald (1/1).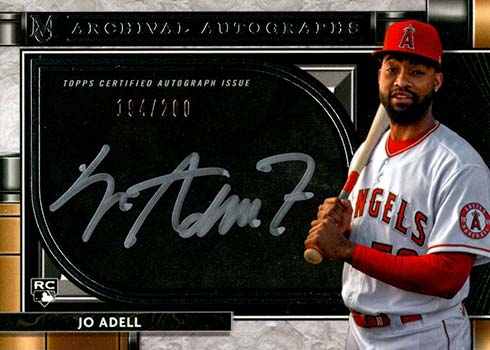 With 25 copies each, Superstar Showpieces are some of the tougher cards to find in the set. Instead of posed shots, these use action photography.
Museum Framed Autographs are a cornerstone of the brand. They return, once again as a case hit. Versions include Silver Frame (/15), Gold Frame (/10), Black Frame (/5) and Wood Frame (1/1).
Keeping with the framed theme are one-of-one Autograph Patch and and Dual Autograph Patch Book cards.
Dual (/15 or less) and Triple Autographs (/5) stick with the on-card theme despite having multiple signers.
While there's a lot that's familiar in the product, Atelier Autographs (/25 or less) are a new addition. These book cards open up to highlight not just the player and their penmanship but their home ballpark as well.

Single-Player Signature Swatches are where most of the autographed memorabilia cards in 2021 Museum Collection Baseball are found. Available with both dual- and triple-swatch versions, these are numbered to 399 or less. Parallels come in Copper (/50), Gold (/25) and Emerald (1/1).
Autographed Jumbo Lumber Bat Relics start with a piece of a game-used bat barrel. That becomes the signing surface as well. These are tough, with just five copies each plus a one-of-one Emerald parallel.
Memorabilia Cards
Meaningful Materials (/50 or less) use swatches from game-used uniforms. This is another part of the checklist that mixes players from the past and present. Parallels include Copper (/35), Gold (/25), Ruby (/10) and Emerald (1/1). Dual Meaningful Materials (/50 or less) take a similar gamer approach, only with two players.
Quad memorabilia cards fall under the Primary Pieces banner. These have either four swatches from the same player or individual gear from an MLB quartet. Base versions top out at 99 copies. Additional Copper (/75), Gold (/25) and Emerald (1/1) levels can also be found.
Momentous Material Jumbo Patch cards are back for another year with super-sized swatches. Base versions have five copies to go with one-of-one Emerald cards. There's also Momentous Material Jumbo Patch Autographs (/15 or less) and Dual Jumbo Patch Autograph Books (/5).
Museum Memorabilia, which have an MLB Silhouetted Batter Logo from a game-worn jersey, Museum Memorabilia Laundry Tags and Jumbo Lumber Bat Nameplates all have a couple of things in common. All are one-of-a-kind. Each set also has a sizeable checklist. This means that while they're certainly tough pulls, they fall a little more regularly than some other rarities.
The Art of 2021 Topps Museum Collection Baseball
Art is a focal point of many of the world's biggest museums. It finds a wing on the 2021 Topps Museum Collection Baseball checklist as well. Canvas Collection inserts return for another year. Done on canvas stock, these have artistic interpretations of top players.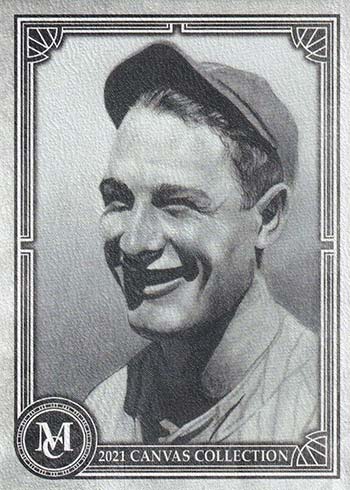 In addition to these are a trio of one-of-one themes, each with original art done directly on the cards. Canvas Collection Originals and Canvas Collection Shaped Sketch Cards are anchored by the unique artwork. Canvas Collection Original Player Autographs add another layer with signatures from the featured player.
2021 Topps Museum Collection Baseball cards at a glance:
Cards per pack: 5
Packs per box: 4
Boxes per case: 12
Set size: 100 cards
Release date: July 14, 2021
What to expect in a hobby box:
Autograph Relics – 1
Autographs – 1
Quad Relics – 1
Additional Memorabilia Cards – 1
Parallels – 4
Break Rules:
1) All BASE multi-player cards that are not numbered or parallels will always go to the furthest left players team. All #'d or parallel cards will be determined by a random to all teams involved with the card.

2) Non Licensed Product Group Break Rules
Occasionally we break products that are not licensed by a company that do not have teams or cities listed on the cards. The following rules apply if the card has no professional city or team on it
If the card is of a player who is currently playing on a professional team, the card will go to that team.
If the card is of a retired player, the card will go the team he had the longest tenure with. If the player happened to be on multiple teams for the same amount of time the card will be randomized between those teams.
If the card is of an athlete/coach/etc. that never played for a professional team, the card will be randomized between hitless teams.
3) Trading
During the hosted breaks, there will be 3-5 minutes to trade teams among each other so please be alert when trading is open.
You can also sell your team before the break begins to another person, as long as you can come to terms with the deal.
Both trades and sales must be confirmed to Thomas Biniek Jr. via PM by both parties.